ODU Football vs. Charlotte
at S.B. Ballard Stadium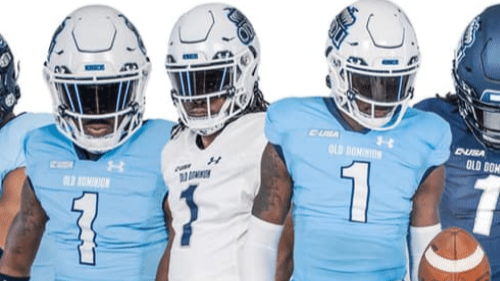 Nov
27
, 2021
ODU Football vs. Charlotte
at S.B. Ballard Stadium
Date

Nov

27

, 2021

Event Starts

TBA

Availability

On

Sale Now
ODU Football vs. Charlotte
at S.B. Ballard Stadium
Event Details
The Monarchs host Charlotte in the season finale. ODU holds a 3-2 series advantage against the 49ers.

Additional Ticket Information
If you are a returning season ticket holder from 2019 or 2020, click here to renew your season ticket order.
To view the 2021 ODU Football pricing map click here
If you are a new season ticket holder for 2021 and wish to upgrade your tickets to a location with a seat membership after your purchase, please contact the ticket office at ODUTickets@odu.edu or (757) 683-4444 to give them your request. All requests will be taken into consideration after the renewal deadline has passed and will be assigned based on ODAF Priority Point ranking, date of purchase and availability. If the ODU Ticket Office can relocate your seats, the difference in price will be collected at the time of relocation.
Fans interested in tailgating, hospitality or premium seating at Kornblau Field at S.B. Stadium should contact the Old Dominion Athletic Foundation (ODAF) at (757) 683-6963.
COVID-19 ALERT: We have taken enhanced health and safety measures to protect our venue guests. However, there is an inherent risk of exposure to COVID-19 in any public place where people are present. COVID-19 is an extremely contagious disease that can lead to severe illness and death.
By entering the venue, you voluntarily assume all risks related to exposure to COVID-19, and Venue disclaims any and all liability related thereto.
In accordance with the guidance and recommendations set forth by the CDC and local health officials, we respectfully request that the following guests not attend tonight's event:
Guests who are feeling sick or experiencing cold or flu-like symptoms (including fever, cough, and shortness of breath).
Guests who have been diagnosed with, or believe to have contracted, COVID-19, unless you have had no fever for 72 hours (without the use of medicine) and 10 days have passed since symptoms first appeared.
Guests who have not been fully vaccinated and have been in contact with an individual diagnosed with COVID-19 within the past 14 days.
Mask Policy
Old Dominion University updated its mask protocols to protect the health and safety of the campus community. As of August 16, ODU requires face coverings that fully cover both the mouth and nose to be worn in all indoor public spaces, including classrooms, facilities, and buildings, except when eating or drinking. We will continue to monitor and follow state, local, and U.S. Centers for Disease Control and Prevention guidelines.
New Football game day policies include:
Outdoor Seating
Face coverings are not required in the outdoor seating areas of SB Ballard Stadium. Patrons can wear Face coverings but is at the discretion of the individual guest.
Indoor Public Spaces
Face coverings are required in all indoor enclosed spaces, including, but not limited to restrooms, elevators, shuttles, etc.
Priority Automotive Club/PNC Gridiron Club
Face coverings are required in all indoor spaces except when guests are eating or drinking. Face coverings are not required in the outdoor seating areas.
Kaufman Mall/Tailgate Lots
Face coverings are not required in tailgating lots or Kaufman Mall as these are outdoor areas.
Press Box
Face coverings are required for all individuals throughout the first and sixth-floor press areas.
Members of the media are not required to wear a face-covering on the field if fully vaccinated, per C-USA policy distancing is still required.
Staff
All employees will be required to wear a face-covering while working indoors.