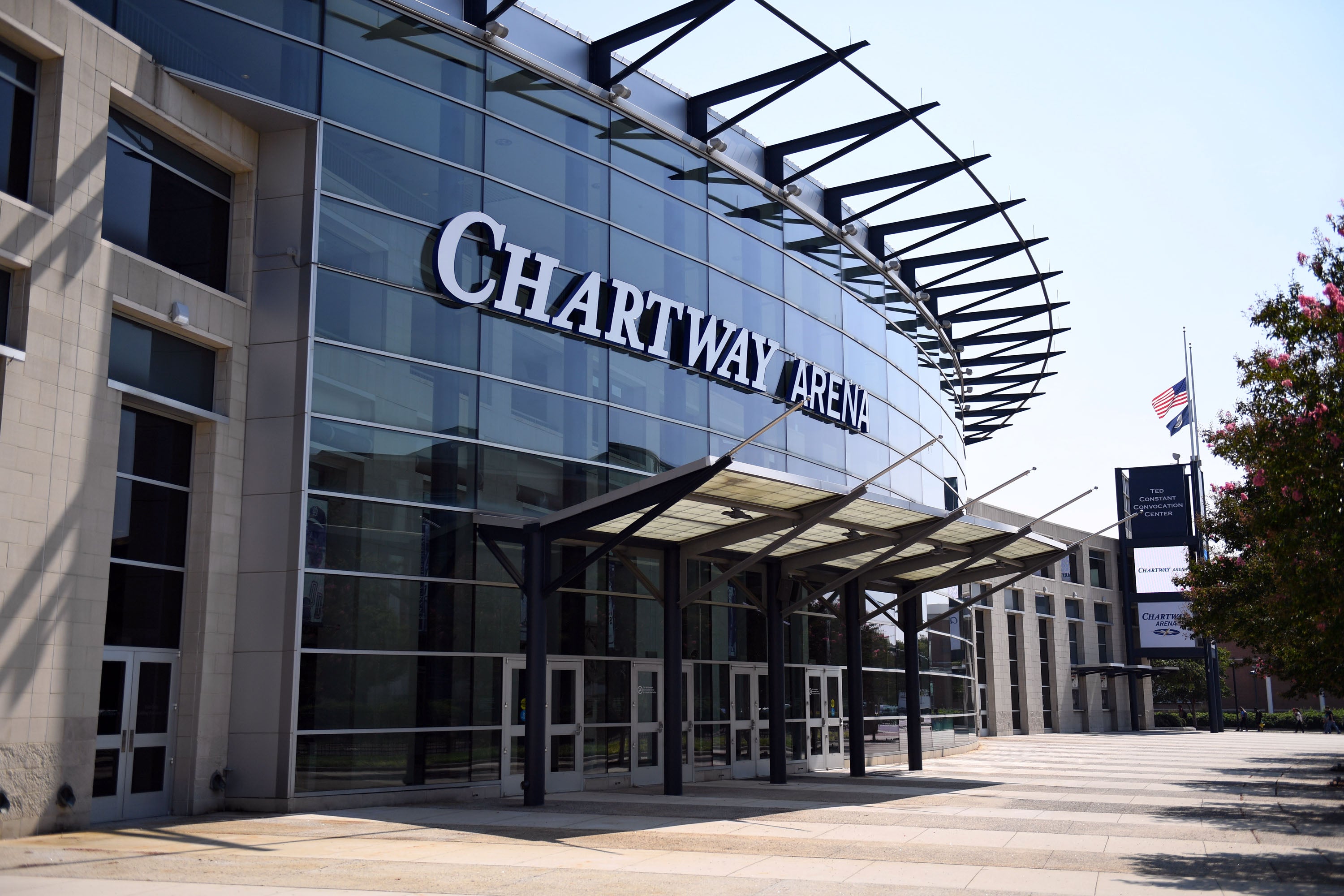 Chartway Arena Ranks As One Of The Top Arenas Of Its Size In the Country
For Immediate Release
January 23, 2020
CHARTWAY ARENA RANKS AS ONE OF THE TOP ARENAS OF ITS SIZE IN THE COUNTRY
Norfolk, VA- Chartway Arena at Old Dominion University is proud to announce Chartway Arena is once again ranked as one of the top-performing arenas in the country following Pollstar's 2019 Year-End Rankings.
Pollstar released its year-end report revealing worldwide rankings for the number of tickets sold for venues of all sizes across the globe. Chartway Arena ranks #2 in the U.S. for venues of its size on a college campus and #10 overall in the U.S. for venues of its size.
Mike Fryling, Spectra General Manager at Chartway Arena said, "It's been an incredible year and the team here at Chartway Arena is excited to once again be recognized as one the premier entertainment facilities in the country."
It's been an exciting year for Chartway Arena, having set a venue record in May for highest-grossing event in venue history with four performances of Tyler Perry's Madea's Farewell Tour, and then a name change in September 2019 as part of a 10-year sponsorship agreement between Old Dominion University and Chartway Federal Credit Union. The venue closed out 2019 with announcing the return of UFC Fight Night in February 2020, after having hosted the first-ever UFC event in Virginia in 2017.
Other notable events of 2019 included Grammy-nominated Vampire Weekend, the legendary Lionel Richie as well as Trevor Noah, Five Finger Death Punch, Young Dolph, David Jeremiah, Harlem Globetrotters, Jeff Dunham, Sesame Street Live, Toby Mac, PJ Masks, Fantasia, Lil Durk and Gabriel Iglesias.
Since opening in 2002, Chartway Arena has hosted sold-out audiences of world-class acts such as Elton John, Bruce Springsteen, Bob Dylan, Stevie Wonder, Michael Bublé, Imagine Dragons, Green Day, and Carrie Underwood; with record-breaking comedy shows such as Robin Williams, Dave Chappell, Mike Epps, and amazing family shows such as Sesame Street, Cirque de Soleil, Harlem Globetrotters, and Disney Jr. Dance Party Live.
Upcoming events at Chartway Arena include Jo Koy (Jan 24), Spartyka Fight League (Jan 31) UFC Fight Night (Feb 29), Harlem Globetrotters (Mar 14), Sesame Street Live (Apr 10-11), JoJo Siwa (May 16) and ODU Men's & Women's Basketball. Tickets are available at YnotTix.com or at the Chartway Arena Box Office. Sign up for the Chartway Arena All Access Club to receive all the information you need about these events and others, including exclusive presales and discounts, at www.ChartwayArena.com.
For information and tickets for Chartway Arena and ODU Athletic events, please visit Ynottix.com delivered by Ynot Italian.
####
About Chartway Arena
Chartway Arena is a 9,100-seat multi-purpose arena located on the campus of Old Dominion University. Operated by Spectra Venue Management since it opened in 2002, Chartway Arena is known as one of the premier mid-sized collegiate venues in the country. Chartway Arena is home to Old Dominion Monarch Men's and Women's basketball, as well as concerts, family shows and other attractions for the Hampton Roads area. Visit www.chartwayarena.com for more information on upcoming events.
About Spectra
Spectra is an industry leader in hosting and entertainment, partnering with clients to create memorable experiences for millions of visitors every year. Spectra's unmatched blend of integrated services delivers incremental value for clients through several primary areas of expertise: Venue Management, Food Services & Hospitality, and Partnerships. Learn more at SpectraExperiences.com. Follow Spectra on Facebook, Instagram, Twitter and LinkedIn.
Venue Media Contact: Tyler Gambrell
E: tyler.gambrell@spectraxp.com