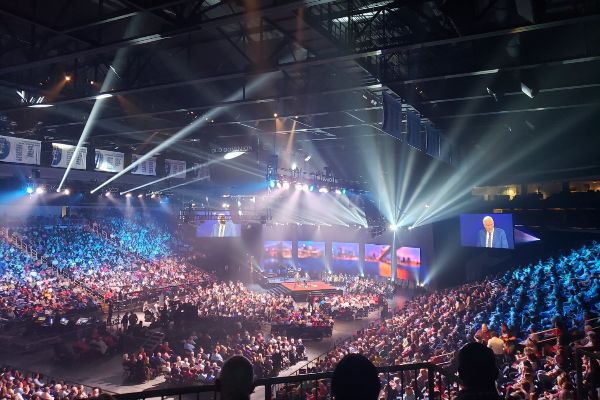 Chartway Arena Ranked In Top 15 Worldwide For Arenas Under 10,000 Seats
Spectra, providers of venue management services for Old Dominion University's, is proud to announce the Constant Center is once again ranked as one of the top performing arenas in the world by Pollstar in their 2019 Mid-Year Top Venue report. The mid-year report highlights ticket sales for top tours, arenas, festivals and amphitheaters in 2019.
Most notably, the Constant Center broke revenue records in May with four performances of Tyler Perry's Madea's Farewell Tour, which was the highest grossing event of all time for the Constant Center. Other notable events of 2019 include Trevor Noah, Young Dolph, David Jeremiah, Harlem Globetrotters, Jeff Dunham, Sesame Street Live, Toby Mac, PJ Masks, Lil Durk and Gabriel Iglesias.
Mike Fryling, General Manager of the Ted Constant Center said, "I want to thank the artists, agents and promoters for continuing to bring world-class entertainment to the Constant Center, Norfolk and Hampton Roads. We love being part of the Old Dominion University community and are excited for the rest of 2019 which includes Logic, The Alchemy Tour and Larry the Cable Guy."
This is the third consecutive year the Constant Center has ranked #1 among venues on a University campus under 10,000 seats. The Constant Center also ranked #12 worldwide for venues with a seating capacity under 10,000 seats.
Since opening in 2002, the Constant Center has hosted sold-out audiences of world-class acts such as Elton John, Bruce Springsteen, Bob Dylan, Stevie Wonder, Michael Bublé, Imagine Dragons, Green Day, and Carrie Underwood; with record-breaking comedy shows such as Robin Williams, Dave Chappell, Mike Epps, and amazing family shows such as Sesame Street, Cirque de Soleil, Harlem Globetrotters, and Disney Jr. Dance Party Live.
For information and tickets for Constant Center and ODU Athletic events, please visit Ynottix.com delivered by Ynot Italian.
####
About Spectra
Spectra is an industry leader in hosting and entertainment, partnering with clients to create memorable experiences for millions of visitors every year. Spectra's unmatched blend of integrated services delivers incremental value for clients through several primary areas of expertise: Venue Management, Food Services & Hospitality, and Partnerships. Learn more at SpectraExperiences.com. Follow Spectra on Facebook, Instagram, Twitter, and LinkedIn.