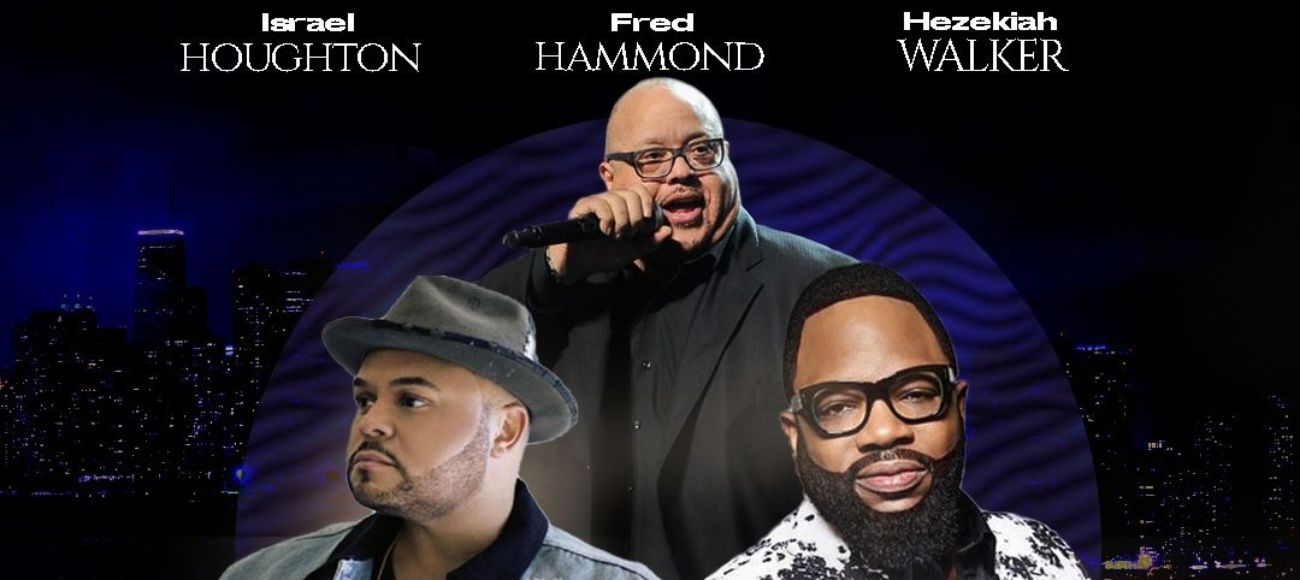 Festival of Praise On April 29
FESTIVAL ORGANIZER AND GRAMMY AWARD WINNER FRED HAMMOND,
ALONG WITH ISRAEL HOUGHTON AND HEZEKIAH WALKER
Tickets Go on Sale Friday, December 3 at 10AM Exclusively Through YnotTix.com
(NORFOLK, VA, December 1, 2021) – Grammy, Stellar and Dove Award-winning gospel great Fred Hammond is bringing the Festival of Praise Tour to Chartway Arena on April 29, 2022. Tickets go on sale this Friday, December 3rd at 10AM at YnotTix.com or the Chartway Arena Box Office.
Hammond will be joined by Gospel Superstars Israel Houghton and Hezekiah Walker. After two years off the road during the Covid Pandemic, the Festival of Praise Tour once again promises to be an unforgettable "hand clapping and foot stomping, get up out of your seat" worship explosion with production and stage sets unmatched in any gospel tour.
The pre-sale will begin Thursday, December 2nd at 10AM, and fans can sign up to Chartway Arena's All Access Club for presale access. Tickets go on-sale on Friday, December 3rd at 10AM and will be available to purchase at YnotTix.com or at the Chartway Arena Box Office.
For the first time in any gospel tour ever, Festival of Praise will offer an opportunity for talented local choirs to win a chance to perform on stage during the concert at each tour stop. In addition, singers can win a chance to appear on stage with the gospel greats. (See below for details).
CONTEST AND CHALLENGE
Festival of Praise is doing something a little different this year and wants to get the fans involved! They are hosting a contest and a challenge for YOU to be a part of the tour!
Contest: a recorded video of your choir performing an original piece or a cover to a song. There will be a winning choir chosen from each stop on the tour and that choir will get the opportunity to perform.
Challenge: Duet Challenge TikTok! That's right, they are calling out all the gospel fans to join this challenge! This consists of the contestant making a duet with their favorite gospel song, singing their heart out with Praise and Worship. This challenge will only have two winners who will have the amazing opportunity to open the show for the first stop (runner up) of the tour and open the show on the last stop of the tour (1st place winner).
Be sure to pay attention to the artist's social media for announcements and submission deadlines at www.festivalofpraisetour.com
# # #
About Festival of Praise
In 1997, after co-producing the most successful gospel tour in history (the Tour of Life) with crowds of more than half a million fans, Face to Face Inc. utilized this as the foundation for its inaugural Festival of Praise Tour in 2014. Festival of Praise began as a 50 plus city tour and was headlined by Fred Hammond, along with Donnie McClurkin. The tour has since continued successfully with appearance from Hezekiah Walker, Israel Houston, Kim Burrell, Jessica Reedy, Zarcardi Cortez, Take 6, Charles Jenkins, James Fortune, Karen Clark Sheard, Casey J, Marcus Wiley, and Earthquake.
About Fred Hammond
Singer, songwriter, musician, producer, arranger, play writer, and film producer/Director and multimedia entertainment Fred Hammond has been a leading pioneer of Gospel music since 1985. As a progenitor of 'Urban Praise & Worship', Hammond has influenced Pop superstars such as Justin Bieber, Chance the Rapper, Jamie Foxx, and more. Foxx explained in an interview on Jimmy Kimmel Live how Hammond's "No Weapon" had a profound impact on Quentin Tarantino and the cast of D'jango during the shooting of some of the film's more intense scenes. Hammond named as Essence Magazine's list of the 50 Greatest Males Singers of All Time, Fred Hammond has topped Billboard charts, sold millions of records, multi-Grammy/Stellar/BET/N.A.A.C.P winner, and collaborated with Snoop Dogg and Kayne West. Hammond was also the founding member of seminal Gospel group Commissioned, Radical for Christ, Motor City Mass, and United Tenors.
About Israel Houghton
Israel Houghton is a Grammy award-winning American Christian music recording artist, songwriter, producer and worship leader, as well as a composer and multi-instrumentalist. He formed 'Israel & New Breed,' a music group and ministry organization that has produced gold-selling albums. The ministry group was formed in 1995 and their debut album, 'Whisper it Loud,' was released in 1997. Her 'New Season,' 'Power of One,' and 'Jesus at the Center' topped the charts at 'Billboard,' and 'Alive In South Africa,' and 'Live From Another Level' were gold-selling. He released 11 of his albums through his own record label, 'Integrity.' Houghton is considered as one of the most influential tastemakers, because of his ability to add zest and energy to contemporary gospel and worship. His music is known for its cross-cultural style of Christian Music and it is a fusion of gospel, jazz, rock, and reggae.
About Hezekiah Walker
Bishop Hezekiah Xzavier Walker, Jr. is a Grammy Award-winning gospel music artist, founder, and leader of the Love Fellowship Choir (LFC), and Pastor and Bishop of the Love Fellowship Tabernacle. For more than thirty years, Stellar and GRAMMY® Award winner, Hezekiah Walker, has a track record of delivering music that serves as anthems of hope and inspiration for the church. His catalog of songs has garnered national and international acclaim. Known as "the hip-hop pastor," Hezekiah Walker has brought a lot of young people to gospel and choir music and has shown that he has no problem using modern vernacular and recording techniques to expand his fan and worship base. A New York native, Walker grew up in the Fort Greene housing projects of Brooklyn. He formed his first gospel group, the Love Fellowship Crusade Choir, when he was in his twenties and serving as a Pentecostal minister.
About Chartway Arena
Chartway Arena is a 9,100-seat multi-purpose arena located on the campus of Old Dominion University. Operated by Spectra Venue Management since it opened in 2002, Chartway Arena is known as one of the premier mid-sized collegiate venues in the country. Chartway Arena is home to Old Dominion Monarch Men's and Women's basketball, as well as concerts, family shows and other attractions for the Hampton Roads area. Visit www.chartwayarena.com for more information on upcoming events.
About Spectra
Spectra is an industry leader in hosting and entertainment, partnering with clients to create memorable experiences for millions of visitors every year. Spectra's unmatched blend of integrated services delivers incremental value for clients through several primary areas of expertise: Venue Management, Food Services & Hospitality, and Partnerships. Learn more at SpectraExperiences.com. Follow Spectra on Facebook, Instagram, Twitter and LinkedIn.
Venue Media Contact: Tyler Gambrell
E: tyler.gambrell@spectraxp.com