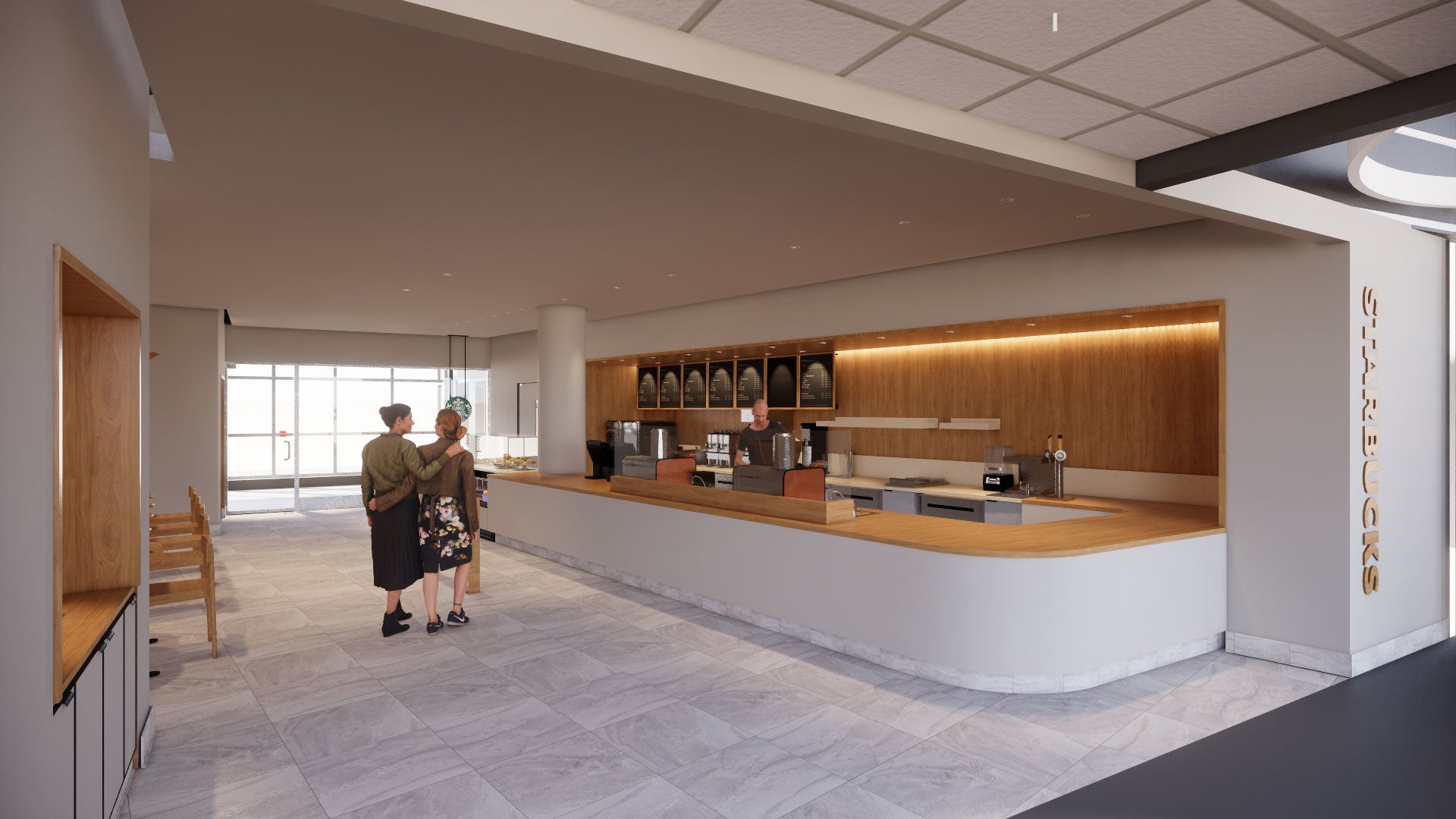 Grand Opening of Starbucks at Chartway Arena
Chartway Arena on the campus of Old Dominion University announces the grand opening of Starbucks. Located inside Chartway Arena at the 43rd Street entrance, this full-service Starbucks opens Feb 1 at 6 AM. Starbucks is the largest coffeehouse chain that serves great coffee while working to make a difference in their community, providing a great addition to the venue.
Conveniently located off Hampton BLVD, hours of operation are Monday-Friday 6 AM–5 PM, Saturday-Sunday 7 AM–4 PM. ODU Students, faculty and staff along with the local community will be able to easily enjoy their favorite Starbucks drinks by ordering from the mobile app or walk-up in person. Due to COVID restrictions, in store seating will be limited. Free customer parking is available in front of Starbucks on 43rd Street and in the 43rd Street Parking Garage, first level. Guests attending events at Chartway Arena will be able to enjoy all the Starbucks offerings by using the mobile app. A QR code will be located at each seat that allows guests to order off the full Starbucks menu and have those items delivered to their seats, providing a one-of-a-kind event experience in Hampton Roads.
Chartway Arena also announces the addition of a new outdoor patio area, Amazon Hub Lockers, and Gregs Unisex Barber Shop. Located outside of Starbucks on 43rd Street, the new 1,200 square foot patio features outdoor seating and will host live music along with special events. The patio is also home to the new Amazon Hub Lockers which is available to the public 24 hours a day, 7 days a week. The lockers are a secure and convenient method to receive Amazon orders. For more info on how to use the lockers please visit ChartwayArena.com.
Coming in March, Gregs Unisex Barber Shop will be located next to Starbucks at the 43rd Street entrance. Gregs Unisex Barber Shop will provide a full-service barbershop featuring the latest cuts and styles for the local community, ODU students and event goers. The arena has partnered with Greg Uzzle, a local entrepreneur and barber, who during the COVID pandemic launched Greg's mobile barbershop. The new 2-chair barber shop will provide a unique event experience allowing fans to get a fresh cut while taking in a game. The barber shop will also be open regular hours Monday through Saturday.
Starbucks and Chartway Arena are committed to the reduction of the spread of COVID. The facility is following policies and procedures based on input provided by national, state, local, and others regarding best practices for the COVID-19 pandemic. For more information about upcoming events, visit ChartwayArena.com.
ABOUT CHARTWAY ARENA: Chartway Arena is a 9,100-seat multi-purpose arena located on the campus of Old Dominion University. Operated by Spectra Venue Management since it opened in 2002, Chartway Arena is known as one of the premier mid-sized collegiate venues in the country. Chartway Arena is home to Old Dominion Monarch Men's and Women's basketball, as well as concerts, family shows and other attractions for the Hampton Roads area. Visit ChartwayArena.com for more information on upcoming events.
ABOUT SPECTRA: Spectra is an industry leader in hosting and entertainment, partnering with clients to create memorable experiences for millions of visitors every year. Spectra's unmatched blend of integrated services delivers incremental value for clients through several primary areas of expertise: Venue Management, Food Services & Hospitality, and Partnerships. Learn more at SpectraExperiences.com. Follow Spectra on Facebook, Instagram, Twitter and LinkedIn.