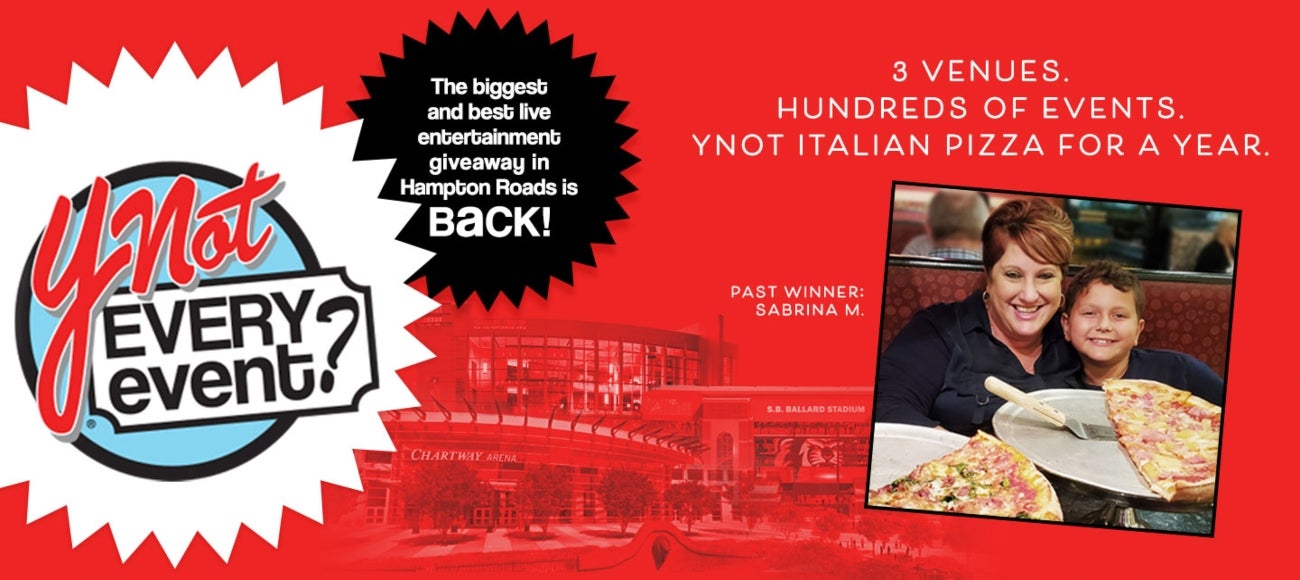 Ynot Every Event Sweepstakes Is Back
FOR IMMEDIATE RELEASE:
ONE LUCKY FAN To Win TWO TICKETS TO EVERY EVENT AT THREE LOCAL VENUES PLUS free ynot ITALIAN pizza for a year!
FANS CAN REGISTER AT YNOTTIX.COM until DECEMBER 8TH
Norfolk, VA (November 8, 2021) – Spectra, the providers of Venue Management to Chartway Arena, Sandler Center and S.B. Ballard Stadium, announces the return of the Ynot Every Event Sweepstakes. This sweepstakes awards one lucky fan with two tickets to every ticketed event in 2022 at the three venues and free pizza for a year, provided by Ynot Italian.
To enter the contest, fans must visit www.YnotTix.com beginning on Monday, November 8 at 8 a.m. All entries will be collected until Wednesday, December 8 at 11:59 p.m. with a winner being selected at random and announced by 5 p.m. on Friday, December 10. The Ynot Every Event Sweepstakes is presented by Ynot Italian and is open to residents living in Virginia ages 18+.
Chartway Arena is home to ODU Basketball and provides a wide variety of entertainment ranging from concerts, family programming, comedy shows, and more. Upcoming shows includes AEW November 17, MercyMe November 19, Jo Koy December 5, and Playboi Carti December 21. The lucky winner will also have the chance to attend every football game at S.B. Ballard Stadium, along with Men's and Women's Basketball games hosted at Chartway Arena. The Sandler Center presents world-class talent in the form of musicians, theater shows, and performance art. An Evening with Travis Tritt January 23, Celtic Woman March 11, Kathleen Madigan March 12, and Little Feat on April 20. Events are continuously added throughout the coming months. Patrons can find out about upcoming events at chartwayarena.com and sandlercenter.org.
"We are ecstatic to be announcing the return of the Ynot Every Event Sweepstakes. This is the seventh year we've done Ynot Every Event in partnership with the Sandler Center, ODU Athletics, and our ticketing sponsor Ynot Italian," said Spectra's Mike Fryling, General Manager of Chartway Arena, '2020 was a challenge for our industry and we are so excited to be back doing what we love and giving Virginia residents the chance to win this incredible prize."
David Semon, Spectra General Manager at the Sandler Center states, "We look forward to this contest every year, and are happy to have it back! Spectra has been bringing dynamic programming and entertainment to Hampton Roads for almost 20 years and we're lucky to be able to unify our partnerships and give one lucky winner the chance to experience a wide range of entertainment between our three venues."
The winner receives free Ynot Italian pizza for a year. Ynot Italian is the Hampton Roads family favorite, serving the best Italian cuisine, pizza, desserts, craft beer and cocktails. The prize is available in all six Ynot Italian locations in Virginia Beach, Chesapeake, and Norfolk.
###

ABOUT SPECTRA: Spectra is an industry leader in hosting and entertainment, partnering with clients to create memorable experiences for millions of visitors every year. Spectra's unmatched blend of integrated services delivers incremental value for clients through several primary areas of expertise: Venue Management, Food Services & Hospitality, and Partnerships. Learn more at SpectraExperiences.com.
Contact:
Tyler Gambrell, Director of Marketing
Chartway Arena & SB Ballard Stadium
Michelle Jenkins, Director of Marketing
Sandler Center for the Performing Arts